Puyallup Wedding Venue – High Cedars Golf Club
High Cedars Golf Club
Directions from the Seattle area
Take I-5 South to 405 North.
Take the 167 South exit and go approx. 19 miles.
Take the 410 East exit and go approx 2 miles.
Take the 2nd exit, (Orting/Valley Ave E) & turn Right on SR162.
High Cedars is 5 miles on the right.
Directions from Olympia
Take I-5 North to the HWY 512 East exit.
Stay on HWY 512 for approx. 8 miles.
Take the Pioneer Ave exit (just past the Puyallup Fairgrounds).
Turn Right on Pioneer Ave and follow approx 2-3 miles to SR162.
Turn right on SR162 and go approx 3 miles.
High Cedars will be located on the right hand side.
About
Puyallup Wedding Venue – Set among more than 220 acres of lush greenery at the foothills of Mount Rainier, High Cedars is perfectly suited for golf tournaments, weddings, business meetings, and charity events. With a wide variety of food selections for any type of social or business event, High Cedars provides a first-rate facility as well as accommodating and hospitable staff.
High Cedars provides multiple facilities, indoors and outdoors. Each facility can accommodate the following:
Banquet Room Capacity: 325 People
Rainier Room Capacity: 80 People
Outdoor Pavilion Capacity: 150 People
Golf Wedding Venue Images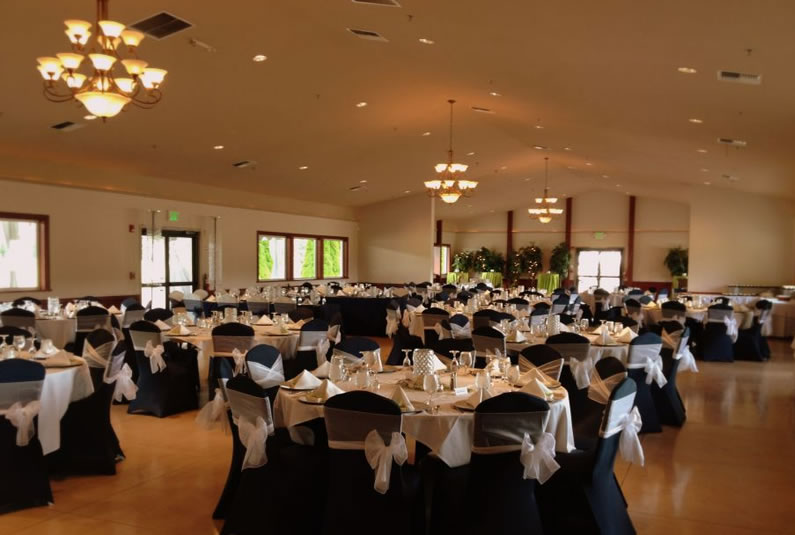 To learn more about the events we have supported at this venue, please contact us to begin planning today. We would enjoy assisting you with the details regarding flowers, decor and planning.  We offer event / wedding planning, "day of" coordination, and beautiful flowers for all occasions including weddings, holidays, private and corporate events.  Let us help plan your next grand event by assisting with the details and bringing the freshest and most beautiful flowers to give it that special touch.  With two locations, we serve both the Puyallup / Tacoma area, and the Lake Chelan / Wenatchee / Leavenworth communities.
View The "Weddings by Venue" Page To See Our Event Pictures For This Venue